It was recently revealed that tech firm Virtex will launch the first-ever fully virtual and digitally created stadium, designed to service the esports industry. It's a CSGO stadium, and it's going to allow esports fans to sit in a virtual environment and get face-to-face with the action of the world's biggest esports title. It's not a concept, either – at the moment, the virtual stadium is in a closed beta phase, and there's a goal to make it global very soon, which could very much change how people interact with esports tournaments.
This also has implications for the esports betting industry, as it'll allow users to fuse their watching experiences with their betting experiences. There's a whole heap of potential here – imagine watching the CSGO action unfold in a virtual studio and looking to the left to see a digital betting menu floating in the air. With the press of a button, you can place an in-play wager against the teams, seeing the results of your bet unravel before your very eyes.
Could This Be The Future of Esports Consumption?
As it is a global phenomenon, esports tournaments take place all around the world. From Paris to Berlin, and from New York to Singapore, so many core cities around the globe have played host to some of the biggest esports events in the business. It can be tough for fans to get directly involved, especially in a game like CSGO, which truly is a worldwide title. Of course, the gameplay is always streamed on Twitch or YouTube, but it doesn't compare to witnessing an event live and in person.
That's where virtual reality comes into play.
Virtex has a mission to deliver an intense, VR-based experience to esports fans around the world. In the words of Virtex's co-founder, Tim McGuinness:
"We are thrilled to be introducing a massive title like Counter-Strike to the Virtex Stadium and giving more fans the opportunity to enjoy top-level gameplay in a way that's never been done before."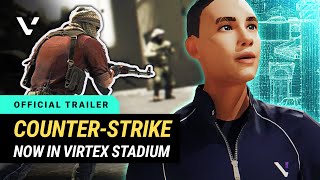 The firm has partnered with Skybox to flesh out this virtual platform, and it already looks good. It isn't just a view of the game, but a fully digital recreation of a stadium, and that includes a social bar, plaza, and various other areas. There could be unbound potential for this project to expand across other titles. For example, it'd do particularly well in FIFA or Rocket League esports, with a VR-focused crowd taking a seat in a virtual arena to soak up the action as though they were there, live.
Virtex has confirmed that R&D is still ongoing on the project, and there's no date in sight for a full release.